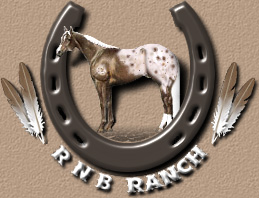 EVIDENCE OF CRIME
BORN: MAY 7, 2000

Sire: PARTNER IN CRIME ApHC

Dam: ROCK EM' HIPS ApHC

'Evidence Of Crime' is a chestnut filly with an eye and a small amount of white over her body.These photos were taken when 'Evie' was about four months old. She was a late foal and has been experiencing a bad hair year. Just started to shed off, when the weather turned cold. I guess she has decided to wait for next spring and warmer weather to show what a pretty hair coat she is going to have. 'Evie' is a full sister to 'For Love Of Crime' and 'Crime On The Rocks' and she will only have to come close to either of those fillies to be a real knockout. Owned by RNB Ranch.


Graphics Copyright © 2000 Sam Silverhawk. All Rights Reserved
Web design by Rain Silverhawk 
photos and content copyright © 2000-2001 RNB Ranch