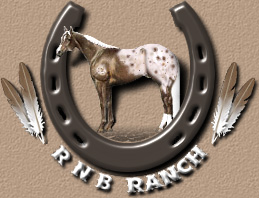 "SUCHA SMOOTH CRIME"
Sire: PARTNER IN CRIME ApHC
Dam: SHES SUCHA HONEY AQHA
'Sucha Smooth Crime' is a 1998 Breeding Stock filly pictured here as a two year old. She does have minimal body color and just a hint of characteristics but not enough for regular papers. 'Smoothie' is a beautiful filly and invite you to check her out under our 'RNB Horses For Sale'.

RNB PHOTO GALLERY

RNB Broodmares

RNB Horses for Sale

RNB New Foals



Guestbook

Graphics Copyright © 2000 Sam Silverhawk. All Rights Reserved
Web design by Rain Silverhawk

photos and content copyright © 2000 RNB Ranch