'SUCHA CLASSIC CRIME'
ApHC # Pending * Foaling Date: 4/7/04

PARTNER IN CRIME ApHC * Dam: SHES SUCHA HONEY AQHA

Sucha Classic Crime is a knockout palomino colt with a big white blanket, plus palomino and chocolate spots. He even has lightning spots on his legs. 'Classic' is going to be big and bold with a 'look at me' attitude. We raised his older brother, Sucha Perfect Crime our Junior Stallion and he is going to be as good or better. 'Classic is one of the few colts we would recommend as stallion material but would also make an outstanding gelding. Price a steal at $3000.

Pedigree for Sucha Classic Crime
Appaloosa
Sire
PARTNER IN CRIME ApHC
Sire
THE EXECUTIVE ApHC
Sire
DIAL BRIGHT TOO ApHC
Sire
DIAL GOOD
AQHA
Dam
BRIGHT LUSTER ApHC
Dam
DIAL RIGHT TIME ApHC
Sire
DIAL GOOD
AQHA
Dam
NILE TIME
ApHC
Dam
SIS BOUNCY
AQHA
Sire
SKIPPER BOUNCY
AQHA
Sire
SMOKEY'S FLAME
AQHA
Dam
BOUNCY DEW
AQHA
Dam
CHOCK'S CHIQUITA
AQHA
Sire
BOUNCY MAC
AQHA
Dam
SIS CHOCK
AQHA
Dam
SHES SUCHA HONEY AQHA
Sire
SUCHA SMOOTHIE
AQHA
Sire
SMOOTH TOWN
AQHA
Sire
LITTLE TOWN
AQHA
Dam
WINKEN TONI
AQHA
Dam
MY QUINTESSENCE
AQHA
Sire
REED CHEYENNE
AQHA
Dam
PRETTY LORRIE
AQHA
Dam
SHES THE SHORTCAKE AQHA

Sire
SKIP ALLOY
AQHA
Sire
SKIP BARDOO
AQHA
Dam
SKIPPER'S BARTA
AQHA
Dam
LAD'S GOLDEN LADY AQHA
Sire
LAD'S IMAGE
AQHA
Dam
JULIAS BABY BEAR AQHA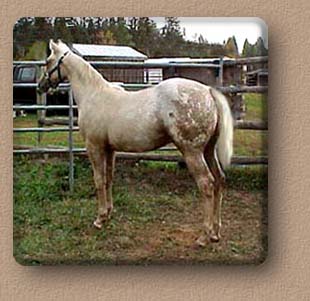 Graphics Copyright © 2000-2004 Sam Silverhawk. All Rights Reserved
Web design by Rain Silverhawk 
photos and content copyright © 2000-2004 RNB Ranch